The Eclipse that Links Astronomy, Herod & Judaism
King Herod was officially designated by Caesar Augustus and then sanctioned by the Roman Senate to rule Judea. Herod died between a lunar eclipse and the Jewish Passover while Augustus was still ruling Rome, according to Josephus.[1]
Gospels Matthew and Luke report that Herod was alive when Jesus of Nazareth was born in Bethlehem. Matthew added that Joseph and Mary with Jesus escaped Herod's wrath by hiding in Egypt until the King died soon thereafter.[2]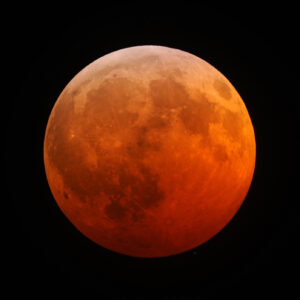 Establishing the date of the lunar eclipse through the science of astronomy along with Jewish Passover dates would substantiate the historical account of Josephus. Moreover, identifying the end of King Herod's rule would corroborate the Gospel accounts and also potentially establish the birth year of Jesus of Nazareth.
"But Herod deprived this Matthias of the high priesthood, and burnt the other Matthias, who had raised a sedition with his companions, alive. And that very night, there was an eclipse of the moon."[3]

"…and when the public morning for the king was over…at the feast of unleavened bread, which was now at hand, and is by the Jews called the Passover…"[4] – Josephus
Secular history has long advocated the year of King Herod's death as 4 BC.[5] That year is reckoned from published copies of Josephus' Antiquities going back to 1544. These printed copies say one of Herod's sons, Philip, died in the 20th year of the reign of Tiberius after ruling for 37 years.[6]
Upon the death of Augustus, Tiberius reigned as Caesar from 14-37 AD. The secular year of 4 BC for determining Herod's death uses the reverse calculation for the beginning of Philip's 37-year rule (14 + 20 = 34 AD – 37 = 4 BC).[7]
Upending the 4 BC date reckoning was Biblical hobbyist David Beyer. He traveled to various libraries around the world that held older handwritten copies of Antiquities and discovered that all handwritten copies originally stated Philip died in the 22nd year of the reign of Tiberius.
Beyer's discovery adjusts the beginning of Philip's rule to the years of 2-1 BC, thus the time of Herod's death. His discovery is also consistent with Josephus' two other statements in Antiquities and Wars that Tiberius died after serving as Caesar "twenty-two years, five months and three days," historically dating to early 36 AD placing Herod's death in 1 BC.[8]
Key to the timeline for secular historians is a lunar eclipse that coincided with this traditional Antiquities date reckoning. NASA's astronomy lunar eclipse data for Jerusalem confirms a partial, less-than-half lunar eclipse occurred on March 13, 4 BC, between 1:32 am and 3:50 am. Slightly less than four weeks later, Passover fell on April 10th.[9]
NASA's astronomy data provides a game-changing fact that supports Beyer's discovery. January 9, 1 BC, there was a full lunar eclipse that began over Jerusalem at 10:22 pm spanning to 3:53 am, January 10.[10] The Passover in 1 BC was observed on April 6, twelve and half weeks later.[11]
Archeological, historical and astronomy records tracing to 2 BC coincide with other historical timeline events. The Silver Anniversary of Caesar Augustus and his Pater Patriae registration decree; archeological discoveries of Quirinius governing in Syria; and the Battle of Actium marking the beginning date of Herod's reign.[12] NASA's data also shows a rare planetary occultation conjunction that formed an extraordinary, elongated star in June, 2 BC.
Aside from the partial lunar eclipse in 4 BC, finding other known secular historical events to corroborate secular year's timeline has proven to be challenging. Attempts to explain the registration decree by Augustus and Quirinius governing in Syria have required complicated, varying explanations.[13] Astronomical events that might explain "His star" took place in previous years prior to 4 BC.
One historical factor may tip the scales in favor of the actual year of the timeline. Josephus described in detail events that transpired between the lunar eclipse and the Passover. Could all the events have taken place in less than four weeks…or would the twelve and half weeks in 1 BC be more realistic?
After the lunar eclipse, Herod's loathsome bowel and gangrenous groin condition compelled him to seek therapy in the warm baths of Callirrhoe, a 2-day journey from Jerusalem across the Jordan River. Gaining no relief, he soaked in a full vat of oil at back at his palace in Jericho.[14] After all treatments failed, Herod welcomed the relief of death.
Herod attempted suicide, but was thwarted by his cousin who happened upon the act. The King's jailed son, Antipater, mistook the cousin's loud screaming thinking Herod had died and tried to bribe the jailer to be released. Instead, the jailer told the King and Antipater was immediately executed.[15] Five days after Antipater's execution, Herod succumbed to his wretched fatal condition.[16]
Many traveled to Herod's funeral in Jericho from throughout Judea and from other countries that included foreign dignitaries and militaries.[17] Slowly advancing, the funeral procession lasted for many days to Herod's final resting place in Herodium 30 miles away.[18]
One of Herod's sons, Archelaus, extended the mourning period to seven days followed by giving a feast for all the people in Judea.[19] When the Passover festival occurred days later, Archelaus took the opportunity to sail away to Rome with his family to escape the threatening chaos that bubbled up from Herod having executed 40 insurrectionists the night of the lunar eclipse.[20]
A lunar eclipse is the basis of both scenarios. A partial lunar eclipse in 4 BC followed by the Passover less than 4 weeks later vs. a full lunar eclipse in 1 BC with the Passover 12½ weeks later.
Factoring in the NASA lunar eclipse data with the account of Josephus and the Jewish Passover, did Herod die in 4 BC or 1 BC?
Updated October 13, 2023.
This work is licensed under a Creative Commons Attribution-NonCommercial-NoDerivatives 4.0 International License.
REFERENCES:
[1] Josephus, Flavius. Antiquities of the Jews. Book XVII, Chapters VI, XIX Trans. and commentary. William Whitson. The Complete Works of Josephus. 1850. <http://books.google.com/books?id=e0dAAAAAMAAJ&printsec=frontcover&source=gbs_ge_summary_r&cad=0#v=onepage&q&f=false> CR Josephus, Flavius. Wars of the Jews. Book I, Chapter XXXIII. Trans. and commentary. William Whitson. The Complete Works of Josephus. 1850. <http://books.google.com/books?id=e0dAAAAAMAAJ&printsec=frontcover&source=gbs_ge_summary_r&cad=0#v=onepage&q&f=false>
[2] Matthew 2; Luke 1. Total Lunar Eclipse. Pilot&Today. image. 2014. <https://cdn.steamboatpilot.com/wp-content/uploads/sites/8/2017/06/TotalLunarEclipse_122110.jpg>
[3] Josephus. Antiquities. Book XVII, Chapter VI.4
[4] Josephus. Wars. Book II, Chapter 1.2-3
[5] Bernegger, P.M. "Affirmation of Herod's Death in 4 B.C." Journal of Theological Studies Vol. 34, no 2, pp 526-531. 1983. RedatedKings.com. n.d. <http://www.redatedkings.com/postings/Bernegger.pdf> Martin, Ernest L. The Star of Bethlehem – The Star That Astonished the World. Chapter 13. 2003. <http://askelm.com/star/star000.htm#_edn11%3E%20%3Chttp://web.archive.org/web/20170111193244/http://www.askelm.com/star/star001.htm> Schurer, Emil. A History of the Jewish People in the Time of Jesus Christ. Volume 1. pp 400, 416. <http://books.google.com/books?id=BRynO3W9FPcC&pg=PP1#v=snippet&q=Tiberius&f=false> Jachowski, Raymond. Academa.Edu. "The Death of Herod the Great and the Latin Josephus: Re-Examining the Twenty-Second Year of Tiberius." n.d. <https://www.academia.edu/19833193/The_Death_of_Herod_the_Great_and_the_Latin_Josephus_Re_Examining_the_Twenty_Second_Year_of_Tiberius>
[6] Josephus. Antiquities. Book XVIII, Chapters IV.6; V.4. Beyer, David W. "Josephus Reexamined: Unraveling the Twenty-Second Year of Tiberius." Chronos, Kairos, Christos II. 1998. < http://books.google.com/books?id=mWnYvI5RdLMC&lpg=PP1&dq=isbn%3A0865545820&pg=PA85#v=snippet&q=beyer&f=false>
[7] "Tiberius." BBC. 2014. <http://www.bbc.co.uk/history/historic_figures/tiberius.shtml> Schurer. A History of the Jewish People in the Time of Jesus Christ. p. 358. Josephus. Antiquities. Book XVIII, Chapter VI.6-8, 10.
[8]Josephus. Antiquities. Book XVIII, Chapter II. 2; Chapter VI.5. Josephus. Wars. Book I, Chapter XXXIII.8.
[9] Espenak, Fred. "Javascript Lunar Eclipse Explorer." NASA Eclipse Website. n.d. Asia and Asia Minor – Jerusalem, Israel. Century Selection -0001 – 0100. <https://eclipse.gsfc.nasa.gov/JLEX/JLEX-AS.html> Kidger, Mark R. "The Date of Passover 11BC – 10AD." Mark Kidger`s Comet and Asteroid Observing Home Page. n.d. <http://www.observadores-cometas.com/cometas/Star/Passover.html
[10] Espenak. "Javascript Lunar Eclipse Explorer." NASA Eclipse Website. n.d. Asia and Asia Minor – Jerusalem, Israel. Century Selection -0001 – 0100. Espenak. "NASA TP-2009-214172." n.d. <https://eclipse.gsfc.nasa.gov/5MCLEmap/-0099-0000/LE0000-01-10T.gif
[11] Kidger, Mark R. "The Date of Passover 11BC – 10AD." Mark Kidger`s Comet and Asteroid Observing Home Page.
[12] Gertoux, Gerard. "Dating the two Censuses of Quirinius." 2018. Academia.edu. <http://www.academia.edu/3184175/Dating_the_two_Censuses_of_Quirinius> Josephus. Antiquities. Book XVII. Chapter VII. Josephus. Wars. Book I, Chapter XXXIII; Book II, Chapter XIX. "Augustus." UNRV History |The Roman Empire. United Nations of Roma Victrix. 2017. <http://www.unrv.com/fall-republic/augustus.php
[13] Davis, John D. "Quirinius" (Quirinus), cwui-rin'i-us, Publius Sulpicious." The New Schaff-Herzog Encyclopedia of Religious Knowledge. Vol. IX: Petri – Reuchlin. 1953. <http://www.ccel.org/s/schaff/encyc/encyc09/htm/iv.vi.xii.htm> Ramsay, William M. "Was Christ Born in Bethlehem?" Chapter 11. 2010. <http://biblehub.com/library/ramsay/was_christ_born_in_bethlehem/index.html> Schaff, Philip. "Chronology of the Life of Christ." History of the Christian Church, Volume I: Apostolic Christianity. A.D. 1-100. Chapter 2. 1890. Christian Classics Ethereal Library. 1 June 2005. <http://www.ccel.org/ccel/schaff/hcc1.i.II_1.16.html> Sieffert, F. "Census." The New Schaff-Herzog Encyclopedia of Religious Knowledge. Vol. II: Basilica – Chambers. 1952. <http://www.ccel.org/s/schaff/encyc/encyc02/htm/iv.vi.ccxxx.htm
[15] Josephus. Antiquities. Book XVII, Chapter VI. Josephus. Wars. Book I, Chapter XXXIII. "Callirrhoe." Jewish Encyclopedia. 2011. <http://jewishencyclopedia.com/articles/3933-callirrhoe> "Map of New Testament Israel." Bible-history.com. Map. n.d. <http://www.bible-history.com/geography/ancient-israel/israel-first-century.html
[16] Josephus. Antiquities. Book XVII, Chapter VII. Josephus. Wars. Book I, Chapter XXXIII.
[17] Josephus. Antiquities. Book XVII, Chapter VIII. Josephus. Wars. Book I, Chapter XXXIII.
[18] Josephus. Antiquities. Book XVII, Chapter VIII, * footnote. Josephus. Wars. Book I, Chapter XXXIII. "Highways and Roads of Palestine." Bible-history.com. Map. n.d. <https://www.bible-history.com/geography/ancient-israel/herodium.html>
[19] Josephus. Antiquities. Book XVII, Chapter VIII. Josephus. Wars. Book II, Chapter I.
[20] Josephus. Antiquities. Book XVII, Chapter IX-X. Josephus. Wars. Book II, Chapter I-II.