Bethlehem – An Amazing Small Town Story
Bethlehem had already been a town for millennia by the time Judea became a province of Rome. In many ways today's city is no different today than it was while under Roman rule: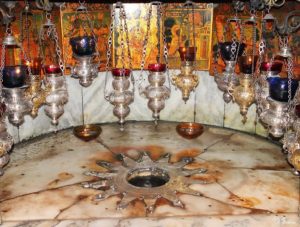 "…Bethlehem, today as it was 2,000 years ago, grottoes are used as livestock pens. Mangers are carved out of rock. Here, in the bulls-eye of this volatile place, ringed by Jewish settlements, imprisoned within a wall, encircled by refugee camps, hidden amid a forest of minarets, tucked below the floor of an ancient church, is a silver star. This, it's believed, is where Jesus was born." – National Geographic [1]
"House of bread" or "the dwelling of bread" is the meaning of Bethlehem while Ephrathah is a district much like a county meaning "fruitful."[2] Practically a suburb of Jerusalem, the city is located just 5 miles to the south.[3]
Jacob's wife, Rachel, died near Bethlehem while giving birth to Benjamin, Israel's (Jacob) 12th son and was buried just outside of the town some 2500 before the lifetime of Jesus of Nazareth. Today her tomb is a revered religious site of both Jews and Muslims.[4]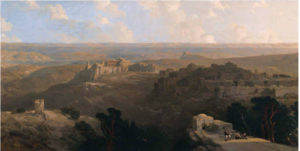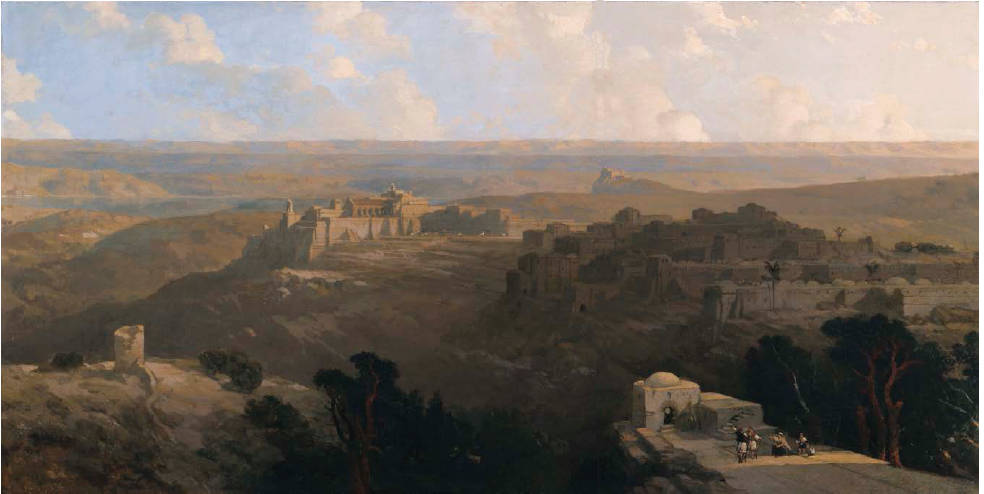 One of the oldest cities in the world, Bethlehem should be as anonymous as are nearly all the other small Judean towns of ancient Palestine. A string of connected events over hundreds of years that would not allow the hamlet to be forgotten.
Not only was the town not forgotten, Bethlehem became famous. It became the home town of the King of Israel; the place of a redemption story; and the town where Jesus of Nazareth was born.
Seven generations removed from Jacob through his son, Judah, was born Boaz of Bethlehem, famous in Hebrew lore for his story of redemption, a ga'al or "goel." Another Bethlehem resident, Naomi, and her Gentile Moabite daughter-in-law, Ruth, are part of the story.[5]
Hebrew law allowed Boaz to redeem Naomi's inheritance lost through a series of family deaths by marrying Ruth…if the first successor relative declined to marry her.[6] Declining the offer, Boaz wed Ruth wed thereby redeeming Naomi's inheritance and had a son named Obed, father of Jesse who appears in two messiah prophecies by the Isaiah.[7]
Samuel, the prophet, was sent by God to Jesse's house in Bethlehem. His mission: to anoint one of Jesse's sons as the king-in-waiting to replace King Saul who had been rejected God.[8]
Surprising everyone, Jesse's youngest son, the shepherd boy named David, was anointed as God's choice to be the next king of Israel. The soon-to-be giant-slayer went on to become the most iconic king in the nation's history.
Six Branch prophecies were issued by three prophets – Isaiah, Jeremiah, Zechariah. These Branch prophecies would foretell the future Messiah would come from House of David.[9]
Generations after David's reign, the prophet Micah would again shine the spotlight on Bethlehem Ephrathah prophesying the future Messiah of the tribe of Judah would come from that little town of Bethlehem. Translations of the Micah prophecy in Greek and Jewish Bibles are in agreement with the English translations…
Micah 5:1 (5:2) "And you, Bethlehem Ephrathah-you should have been the lowest of the clans of Judah-from you [he] shall emerge for Me, to be a ruler over Israel; and his origin is from of old, from days of yore." – Complete Jewish Bible with Rashi Commentary
Revered Jewish sage Rabbi Rashi commented on the prophecy. His phrase-by-phrase breakdown defines Bethlehem Ephrathah and identifies who would emerge from the town:
"And you, Bethlehem Ephrathah": [Rashi:] whence David emanated, as it is stated (I Sam. 17:58): "The son of your bondsman, Jesse the Bethlehemite." And Bethlehem is called Ephrath, as it is said (Gen. 48:7): "On the road to Ephrath, that is Bethlehem."
"from you shall emerge for Me": [Rashi:] the Messiah, son of David, and so Scripture says (Ps. 118:22): "The stone the builders had rejected became a cornerstone."
"and his origin is from of old": [Rashi:] "Before the sun his name is Yinnon" (Ps. 72:17)
Talmud Sanhedrin 98b identifies Yinnon along with Shiloh and other names for the Messiah who would come from the House of David. Rabbi Johanan in the Gemara quotes from the Isaiah 52-53 parashah considered by many to be a Messiah prophecy.[10]
About a 1000 years after the House of David was established, Jesus of Nazareth was born in Bethlehem under bizarre, unforeseen circumstances. His parents, Mary and Joseph, were compelled by a decree of Roman Caesar Augustus to travel 90 miles by foot or donkey from Nazareth to Bethlehem just days before his mother was to give birth.
On the night of the birth of Jesus, shepherds heralded by angels came to see the baby. Telling of Jesus being born in a stable, Luke's Nativity adds he was laid in a manger for his crib.
Days later, Matthew's Nativity describes Magi, who came from another country after seeing "His star," set out on a quest to find the baby. The Magi wanted to worship Jesus while unwittingly drawing the ire of King Herod who actually wanted to kill Jesus.
Murder of baby boys 2 years old and younger was ordered by King Herod when the Magi didn't return with information where to find Jesus. The notorious incident is known as the Massacre of the Innocents and is honored on the 28th of December by the Feast of the Holy Innocents.[11]
Today, some 2000 years later, the famed little town of Bethlehem is now the backdrop for the Christmas Nativity scene detailed by Gospels Luke and Matthew. Christmas stories over the centuries have condensed the Nativity scene to one night.
Bethlehem, an unbelievable small town story with a legacy going back three millennia.
Was the birth of Jesus in Bethlehem an improbable coincidence or a fulfillment of prophecy?
Updated December 9, 2023.
This work is licensed under a Creative Commons Attribution-NonCommercial-NoDerivatives 4.0 International License.
REFERENCES:
[1] Finkel, Michael. National Geographic. "Bethlehem 2007 A.D.", p.65. December, 2007. Skaballanovich, Michael. Orthodox Christianity. image. n.d. http://www.pravoslavie.ru/sas/image/102817/281720.b.jpg?mtime=1515078287>
[2] Ryrie Study Bible. Ed. Ryrie Charles C. Trans. New American Standard. Moody Press. 1978. Footnote on Micah 5:2. The Complete Jewish Bible with Rashi's Commentary. Micah – Chapter 5 commentary.
[3] Map of Israel. (untitled) Google Maps. n.d. <https://www.google.com/maps/@31.743205,35.21307,13z?hl=en> Josephus, Flavius. Antiquities of the Jews. Book VII, Chapter XII. The Complete Works of Josephus. 1850. <http://books.google.com/books?id=e0dAAAAAMAAJ&printsec=frontcover&source=gbs_ge_summary_r&cad=0#v=onepage&q&f=false>
[4] Genesis 35:16-19; 48:7. "The Story of Abraham." The History of Israel. n.d. <http://www.israel-a-history-of.com/story-of-abraham.html> Pratt, John P. "Divine Calendars Testify of Abraham, Isaac, and Jacob." JohnPratt.com. <http://www.johnpratt.com/items/docs/lds/meridian/2003/abraham.html> "Rachel's Tomb." Chabad.org. n.d. <http://www.chabad.org/special/israel/points_of_interest_cdo/aid/602502/jewish/Rachels-Tomb.htm> Roberts, David. The Victorian Web. "Bethlehem, Looking Toward the Dead Sea." Painting. 1853. <https://victorianweb.org/painting/roberts/paintings/5.html
[5] I Chronicles 2:1-17; Ruth 3-4. Net.bible.org. Hebrew text ga'al. Ruth 2:20 <http://classic.net.bible.org/strong.php?id=01350> "Salvation" and "Hosanna." Jewish Encyclopedia. 2011. <http://www.jewishencyclopedia.com> [4] Matthew 1:5; 1 Chronicles 2:10; Ruth 4:21.
[6] I Sam. 16: 4. 2 Samuel 16:11-13. I Chronicles 2:13.
[7] Net.bible.org..Ruth 2:20 Hebrew text. "goel." Dictionary.com.
[8] Isaiah 11:1-2; 10.
[9] Isaiah 7:14; 9:6; Jeremiah 23:5; 33:14-17; 33:20-26; Zechariah 12:10-12
[10] Sanhedrin 98b. Soncino Babylonian Talmud. 1935-1948. <https://israelect.com/Come-and-Hear/sanhedrin/sanhedrin_98.html> "Nedarim 39b." Soncino Babylonian Talmud. Steinsaltz, Adin. "Masechet Sanhedrin 98a-104b." Orthodox Union. 2010. <https://www.ou.org/life/torah/masechet_sanhedrin_98a104b>
[11] McCaulley, Esau. The New York Times. "The Bloody Fourth Day of Christmas." image. 2019. <https://www.nytimes.com/2019/12/27/opinion/christmas-feast-of-innocents.html> "Feast of the Holy Innocents." Encyclopædia Britannica. 2022. Encyclopædia Britannica, Inc. https://www.britannica.com/topic/Feast-of-the-Holy-Innocents> Last accessed 8 Dec. 2023.