David – the Famous King of Israel
Biblical stories of David are told in the Bible about his amazing heroics – how he became King of Israel, his rule of the kingdom … and his great sins. In-spite-of his flaws, David became the subject of virtually undisputed prophecies that foretold the Messiah would come through his lineage.[1] The accounts begin with his father who was Jesse from Bethlehem of the tribe of Judah.
Red-headed David, the youngest of 8 boys, was assigned to be the shepherd of his father's sheep. Alone in the wilderness, he became an expert with a slingshot and single-handedly killed lions and bears who threatened the flock.[2]
Summoned one day by his father to their home in Bethlehem, David was a surprised when he discovered the prophet Samuel was there waiting, too. Shockingly, the prophet anointed David as God's choice to be the next King of Israel in-spite-of the fact Israel already had a ruling King.[3] Nothing changed immediately, but David's legendary actions began to grow soon thereafter…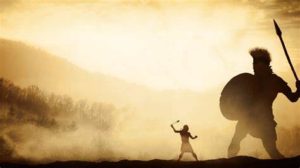 Three of David's brothers were fighting in Israel's army supported by their father who routinely sent David to them with supplies. During one visit, David was astonished to see Israel's army afraid of an ace giant Philistine warrior named Goliath who challenged and taunted Israel's army daily.
Asking King Saul's permission to battle Goliath, the shepherd boy was ridiculed by his older brothers and even King Saul tried to discourage David; however, the King relented. David defiantly announced to Goliath he would kill him in the name of the Lord and cut off his head, but the Philistine still cursed and mocked David.
David did just as he said – with a slingshot and a single stone he killed Goliath, then used Goliath's own sword to cut off his head. That very day David was placed in the service of King Saul.[4]
David's fame eventually made Saul jealous forcing David to go into hiding to protect himself when Saul tried to kill him.[5] Failing to seek and obey God's guidance would cost King Saul his own life and that of his sons in battle.
After Saul's death, David became king, but he had no throne and the fortified city of Jebus appeared to be the perfect place.[6] With the notoriety of being a skilled formidable warrior from serving in King Saul's army, David had become well-known to his enemies.[7] David used this savvy reputation to form an army from the tribes of Israel and advanced toward Jebus.
Hurling insults at Israel's approaching army, the Jebusites taunted them shouting "the blind and the lame" could fight off Israel and in arrogant mockery positioned lame and blind people on the city walls.[8] Taking great offense, David offered his commanding leaders a General's position to whomever led the army to victory over Jebus.[9]
Joab won the challenge and became the commanding General of Israel's army. Soon after taking the city, it was expanded to encompass Mounts Moriah and Zion. Jebus, formerly known as Salem, now was called by a new name – Jerusalem, the City of David.[10]
Basking in the glory of his kingdom, David decided to take a census contrary to God's past instructions because it demonstrated a lack of faith in God.[11] General Joab pressed the King not to do it, but David persisted.[12]
Punishment delivered by an "angel of the Lord" for David's sin was heavy upon the nation. The King pleaded with God to punish only himself and his family because Israel was innocent. The prophet Gad delivered God's response instructing David to build an altar on the threshing floor of Araunah located on Mount Moriah and offer an atonement sacrifice for the people of Israel.[13]
David purchased the threshing floor, the oxen and materials, then built the altar himself. Astonishingly, God sent fire down from heaven to consume the sacrifice. Moved deeply, David declared: "This is the house of the LORD God, and this is the altar of burnt offerings for Israel."[14] The Temple was to be built on Mount Moriah, the place where a 1000 years earlier Abraham took his only son, Isaac, to be sacrificed but spared at the last moment with a substitute sacrificial ram.[15]
News from God to David in the form of a prophecy came through the prophet Nathan. He foretold that David's future son would be the one to build the House of God fulfilling one of the promises God made to Moses at Mt. Sinai.[16]
2 Sam 7:12-13& "When your days are complete and you lie down with your fathers, I will raise up your descendant after you, who will come forth from you, and I will establish his kingdom. He shall build a house for My name, and I will establish the throne of his kingdom forever."[17]
Lord Acton's quote "absolute power corrupts absolutely" applied even to David. From his palace rooftop, David watched his neighbor's wife taking a bath. Her name, ironically, was Bath-Sheba. The King dispatched his men to bring her to his palace where David seduced her and she became pregnant.[18]
Bath-Sheba's husband, Uriah, was one of the King's top military officers away fighting a war – how would Bath-Sheba explain away her pregnancy? David devised a cover-up plan.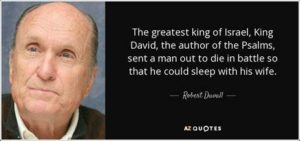 Uriah was summoned from the battlefield at the behest of David under the pretense of earning a well-deserved leave from duty. The true reason was to give Bath-Sheba an opportunity to have marital relations with her husband to legitimize her pregnancy.
Backfiring, the loyal Uriah did not think it would be fair to his troops back on the battlefield if he were at home enjoying the pleasures of his wife. The King's back-up scheme was much more sinister.
David sent Uriah to the front lines of the war with the expectation Uriah would die in battle. Indeed, he was killed in action.
A royally planned and executed murder plot seemed foolproof – except to God. The prophet Nathan exposed David's sin bringing judgment upon David and Bath-Sheba when their ill-conceived baby died.[19]
In spite of his deplorable sins of adultery and murder, God still honored His promise to David. Prophets Isaiah, Jeremiah and Zechariah over the following centuries would prophesy that the Messiah would come from the House of David, prophecies attested by renowned Jewish Sages Rashi and Maimonides.[20]
David also wrote many of the Psalms, some deemed to be prophetic.[21] First words of Psalms 22, "My God, My God, why have You forsaken me?" were cried out by Jesus shortly before he died on the cross. The 22nd Psalm depicts the dramatic image of a man dying in agony and humiliation, remarkably consistent in specific detail of the circumstances of the Roman crucifixion of Jesus a millennium later.
As a mortal, Jesus would have no control over being born a 1000 years later into the royal lineage of David nor in Bethlehem, David's hometown. It is especially exceptional considering that up until the last moment, Jesus was expected to be born in Nazareth, a week's-long journey away.
From King David to Jesus, what are the odds of improbability all these events were just a coincidence?
Updated August 31, 2023.
This work is licensed under a Creative Commons Attribution-NonCommercial-NoDerivatives 4.0 International License.
REFERENCES:
[1] I Samuel 16. CR I Chronicles 2; Matthew 1:6; Luke 3:31-32.
[2] I Samuel 17.
[3] I Sam. 16; Chronicles 2, 10.
[4] I Samuel 18. "David and Goliath." WallpaperCave. photo. n.d. <https://wallpapercave.com/wp/wp3721504.jpg>
[5] I Samuel 19.
[6] 2 Samuel 2, 5. 1 Chronicles 10, 11.
[7] 1Chronicles 11.
[8] I Chronicles 11; 2 Samuel 5. Josephus, Flavius. Antiquities of the Jews. Book VII, Chapter III.1. <http://books.google.com/books?id=e0dAAAAAMAAJ&printsec=frontcover&source=gbs_ge_summary_r&cad=0#v=onepage&q&f=false>
[9] 2 Samuel 5; I Chronicles 11. Josephus. Antiquity. Book VII, Chapter III.1.
[10] I Chronicles 17:1. Josephus. Antiquity. Book VII, Chapter III.1-2. Net.bible.org. Hebrew text. "Jebus <2982>" <https://net.bible.org> Lexicon-Concordance Online Bible. Hebrew "Jebuw <2982>" (Brown-Driver-Briggs). <http://lexiconcordance.com> Dolphin, Lambert. "Mount Moriah, Site of the Temple Mount in Jerusalem." TempleMount.org. 1996. <http://www.templemount.org/moriah2.html> "Zion." Fausset Bible Dictionary. 1878. http://classic.studylight.org/dic/fbd>
[11] Exodus 30.
[12] I Chronicles 21; 2 Samuel 24.
[13] I Chronicles 21; 2 Chronicles 3; 2 Samuel 24.
[14] NKJV. I Chronicles 21-22. 2 Samuel 24. "Araunah." Jewish Encyclopedia. 2011. <http://www.jewishencyclopedia.com> "The Site – The Temple Mount." Bible-History.com. n.d. <http://www.bible-history.com/jewishtemple/JEWISH_TEMPLEThe_Site.htm> Josephus. Antiquities. Book VII, Chapter III.
[15] I Chronicles 22; 2 Chronicles 3.
[16] Genesis 49; 2 Samuel 5; 1 Chronicles 11, 17; Chronicles 5; 1Kings 2; Judges 1; Psalms 76. Josephus. Antiquities. Book VII, Chapter III.2.
[17] NASB. I Chronicles 17.
[18] 2 Samuel 11. "Lord Acton writes to Bishop Creighton…" Online Library of Liberty. 2017. <http://oll.libertyfund.org/quote/214> "King David Quotes." AZQuotes. photo. n.d. <https://www.azquotes.com/quotes/topics/king-david.html>
[19] 2 Samuel 12.
[20] Isaiah 9; Jeremiah 23; 33; Zechariah 12. The Compete Jewish Bible – with Rashi Commentary. Rashi commentaries: Gensis 49:10; Numbers 24:17; Zechariah 12:12; Micah 5:2. Maimonides. Mishneh Torah. "The Law Concerning Moshiach." Chapter 11. <http://www.kesser.org/moshiach/rambam.html#SIE>
[21] The Complete Jewish Bible with Rashi's Commentary. Rashi commentaries on Micah 5:2 and Psalms 118:22. "Salvation." Jewish Encyclopedia. 2011.