Pilate – the Story Behind the Story
Pilate will be forever known as the Roman Procurator who condemned Jesus of Nazareth to be crucified.[1] Why he made this judgement defies sensible logic considering Pilate himself and Herod the Tetrarch, son of King Herod, both found Jesus guiltless of any crime.
In the case of Pilate and Jesus, the politics were much deeper than conveyed in the Gospel accounts which primarily focused on the political pressures from the Jewish leadership.[2] Roman influences were just as much, if not more, a significant factor.[3]
Roman politics were no different than they are today, except perhaps for the deadly endgame objective to totally eliminate the opponent, often by death – including Caesars.[4] Each government official had to try to avoid the pitfalls that came with authority, quite commonly from blood relatives and spouses.[5]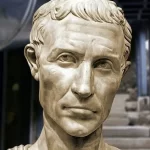 Only two Procurators were sent to Judea by Tiberius Caesar during his 22-year reign. Gratus was first to be sent to Jerusalem serving Rome as Procurator for 11 years.
One of Gratus' noteworthy last actions was to appoint Joseph Caiaphas as High Priest. Pontius Pilate followed as the second Roman Procurator sent by Tiberius serving 10 years.[6]
Insights to the thinking and behaviors of Tiberius Caesar are key to understanding what drove the actions and behaviors of Pilate. What affected the Caesar's reaction to various scenarios included his view of the Empire past and present; what he deemed to be important; and his temperament.
Highly regarding the policies and decrees of his predecessor, Caesar Augustus, Tiberius said, "I who respect as law all his actions and sayings."[7] Highlighting this, Tiberius was once observed sacrificing to the Divine Augustus.[8]
Jews were to be treated with moderation by decree of Augustus.[9] In fact, the decree was chiseled into a pillar in the Temple of Caesar in Rome granting the Jews certain liberties – anyone who transgressed it was to be severely punished:[10]
"Cesar Augustus, High Priest, and Tribune of the people ordains thus: …the Jews have liberty to make use of their own customs, according to the law of their fathers, as they made use of them under Hyrcanus the High Priest of Almighty God; and that their sacred money be not touched, but be sent to Jerusalem; and that it be committed to the care of the receivers at Jerusalem; and that they be not obliged to go before any judge on the Sabbath-day, nor on the day of the preparation to it, after the ninth hour… And if any one transgress any part of what is above decreed, he shall be severely punished."
Backing up his words, Augustus received a complaint by the Jews against Ethnarch Archelaus, a ruling heir of King Herod. Archelaus was banished to Vienna by Augustus who took away his wealth for treating the Jews harshly.[11]
No doubt Pilate was aware of how Tiberius desired to follow the examples of Augustus and the fate of Archelaus. Ruthless as a ruler, as time went on the level of depravity and cruelty by Tiberius was on full display.[12]
Tacitus called it a "cruel temper" surmising absolute power perverted the actions of Tiberius.[13] Josephus described Tiberius as having an "intractable" temper, a "tyrant."[14]
Regardless of the view of the Jews by Augustus, at heart Tiberius believed religious beliefs of the Jews to be "superstitions" and banned them from the city of Rome. An example, Jews in military service were assigned "to provinces of a less healthy environment."[15]
Walking a fine line, Pilate had to separate what Tiberius deemed a superstitious religion from the treatment of the people of Judea. The risk – if a report got back to Caesar that Pilate had mistreated the Jewish people, bad things could happen…thus was the authoritative profile of the ruler Pilate served.
Pilate first provoked the Jews by moving his Roman troops from Caesarea to Jerusalem "to abolish the Jewish laws." During the night, Roman ensigns with effigies of Caesar were brought into the city violating Jewish law prohibiting the images.[16]
Rebellion ensued with thousands of Jews petitioning Pilate to remove the images. In front of Pilate, Jewish zealots prostrated themselves on the ground pulling back their hair to expose their necks for the sword. Taken aback, Pilate removed the ensigns.
Next incitement, Pilate announced the construction of a Jerusalem aqueduct to be paid using the "sacred money" of the Jews. Protests again ensued by tens of thousands of Jews who cast insults at the crier who made the announcement.
Addressing the crowd himself, more aspersions were now hurled at Pilate who took offense. Planning for this likelihood, the Procurator had Roman soldiers dress in disguise and mingle in the crowd.[17]
Giving the signal, the soldiers reacted and pulled out daggers wounding and killing many of the unarmed protesters. No action was taken by Tiberius and Pilate remained as Procurator.
According to Luke 3:1, Jesus began his ministry in the 15th year of Tiberius meaning that Pilate was entering his fifth year as Procurator when the ministry of Jesus began. After a 3-year ministry, it reckons that Pilate was about in his 8th year as Procurator when Jesus was delivered to him to be judged.
By now, Tiberius was a seasoned Caesar in his 18th year of rule with his cruelties being well-known. With a long track record of the Emperor to consider, Pilate had to ponder the risks that came with working for a tyrant who was feared even by Roman citizens.
During the famed ministry of Jesus of Nazareth and with Pilate in Jerusalem, it set the two on an inevitable collision course. In the next sequence of incidents with the Jews, Josephus wrote:
"Now there was about this time Jesus, a wise man…"
"…Pilate, at the suggestion of the principal men among us, had condemned him to the cross…" – Josephus [18]
After holding their own trial for blasphemy and rendering a verdict of guilty, the Jewish leadership brought Jesus to Pilate for Roman judgement under the accusation of insurrection and tax evasion. As the Roman authority in Judea, the Procurator had little choice but to deal with the situation.[19]
Directly asking Jesus if he is a king, Jesus admitted it to Pilate, just not a King of this world. Perplexed, Pilate sent Jesus to be judged by Galilee Tetrarch Herod Antipas who just happened to be in Jerusalem at that time.
Neither Tetrarch Herod nor Procurator Pilate found any guilt in Jesus for insurrection or incensus against Rome despite Jesus admitting to Pilate that he is a King.[20] Announcing his decision, Jewish reaction was raucous shouting for Jesus to be crucified.
Compelling him to wash his hands of the contrivance, Pilate proclaimed to the crowd of Jews, "I am innocent of this man's blood."[21] Jesus was then sentenced to be crucified.
Was Pilate's decision to have Jesus crucified the result of political fears of the Jews and Tiberius Caesar as the Gospel of John alluded or was it part of a divine Messiah plan where an innocent man was to be crucified – or maybe both?[22]
Postscript: Pilate, too, was caught in the spiderweb of Jewish-Roman politics. About two years later, the Samarians lodged a complaint against Pilate for his abuses of them to Vitellius, Roman provincial governor of Syria. Vitellius removed both Pilate and Caiaphas from their positions sending Pilate to Rome to be judged by Tiberius, but the Caesar was murdered while he was enroute.[23] Tradition holds that Pilate, like Archelaus, was banished to Vienna by Caius, better known as Caligula.[24]
Updated December 6, 2023.
This work is licensed under a Creative Commons Attribution-NonCommercial-NoDerivatives 4.0 International License.
REFERENCES:
[1] Josephus, Flavius. Antiquities of the Jews. Trans. and commentary, William Whitson. The Complete Works of Josephus. 1850. Book XVIII, Chapter III.3. <http://books.google.com/books?id=e0dAAAAAMAAJ&printsec=frontcover&source=gbs_ge_summary_r&cad=0#v=onepage&q&f=false> Tacitus, Gaius Cornelius. The Annals. 109 AD. Books XV.44. <http://penelope.uchicago.edu/Thayer/E/Roman/Texts/Tacitus/Annals/15B*.html> Lucian of Samosata. "The Death of Peregrine." The Works of Lucian of Samosata. Volume IV. 1905. p 82. <http://www.sacred-texts.com/cla/luc/wl4/wl420.htm> "Pontius Pilate Biography." TheFamousPeople. photo. n.d. <https://images.search.yahoo.com/yhs/search;_ylt=AwrEfjiRA0djwjcA1lUPxQt.;_ylu=Y29sbwNiZjEEcG9zAzEEdnRpZAMEc2VjA3BpdnM-?p=pontius+pilate+images&type=sdff_9527_FFW_ZZ&hsimp=yhs-3&hspart=iba&grd=1&ei=UTF-8&fr=yhs-iba-3#id=0&iurl=https%3A%2F%2Fwww.thefamouspeople.com%2Fprofiles%2Fimages%2Fpontius-pilate-1.jpg&action=click>
[2] Matthew 27; Mark 15; Luke 23; John 18.
[3] John 19:12. CR Luke 23:24. Smith, Murray J. "The Political Context of the Gospels." Academia. 2010. pp 98-100. <file:///C:/Users/KIM_VO~1/AppData/Local/Temp/The_Political_Context_of_the_Gospels.pdf>
[4] Tacitus, Gaius Cornelius. The Annals. Books I, VI. "Julius Caesar." Encyclopædia Britannica. 2020.
<https://www.britannica.com/biography/Julius-Caesar-Roman-ruler> "Tiberius." Encyclopædia Britannica. 2020. <https://www.britannica.com/biography/Tiberius/Reign-as-emperor>
[5] Josephus. Antiquities. Book XVII, Chapter XIII. 2, 5; Book XVIII, Chapter VI.6-7, 10. Josephus. Wars. Book II, Chapter 9.5 Tacitus. Annals. Books II, XV. Suetonius (C. Suetonius Tranquillus or C. Tranquillus Suetonius). Suetonius (C. Suetonius Tranquillus or C. Tranquillus Suetonius). The Lives of the Twelve Caesars. Tiberius, #50, 51, 52.< http://penelope.uchicago.edu/Thayer/E/Roman/Texts/Suetonius/12Caesars/home.html>
[6] Josephus. Antiquities. Book XVIII, Chapter II.2; VI.5 "Valerius Gratus." Encyclopedia.com. 2019. <https://www.encyclopedia.com/religion/encyclopedias-almanacs-transcripts-and-maps/valerius-gratusdeg> Carrier, Richard C. "Herod the Procurator: Was Herod the Great a Roman Governor of Syria?" 2011. pp 34-37. <https://www.academia.edu/1203990/Herod_the_Procurator_Was_Herod_the_Great_a_Roman_Governor_of_Syria?email_work_card=view-paper>
[7] Tacitus. Annals. Book IV. Strabo. Geography. 6.4. <http://www.perseus.tufts.edu/hopper/text?doc=Perseus:text:1999.01.0198:book=6:chapter=4&highlight=tiberius>
[8] Tacitus. Annals. Book IV.
[9] Josephus. Antiquities. Book XVII, Chapter XIII. 2.
[10] Josephus, Flavius. Antiquities of the Jews. Book XVI, Chapter VI.2. n.d <https://books.google.com/books?id=e0dAAAAAMAAJ&printsec=frontcover&source=gbs_ge_summary_r&cad=0#v=onepage&q=Augustus&f=false>
[11] Josephus. Antiquities. Book XVII, Chapter XIII. 2, 5. Bunson, Matthew. Encyclopedia of the Roman Empire. "Herod Antipas." 2002. <https://archive.org/details/isbn_9780816045624> Bunson, Matthew. Encyclopedia of the Roman Empire. "Jerusalem." 2002. <https://archive.org/details/isbn_9780816045624>
[12] Suetonius. The Lives of the Twelve Caesars. Tiberius, #49, 50, 55, 59, 61, 62, 66, 67.
[13] Tacitus. Annals. Book VI.
[14] Josephus. Antiquities. Book XVIII, Chapters II.4, VI.5.
[15] Suetonius. "Tiberius." #36.
[16] Josephus. Antiquities. Book XVIII, Chapter III.1. Josephus. Wars. Book II, Chapter IX.3. Calmet, Augustin. Calmet's Great Dictionary of the Holy Bible. Pilate. 1813. <https://books.google.com/books?id=FgM2AQAAMAAJ&pg=PP305&lpg=PP305&dq=Pilate+banished,+Vienne&source=bl&ots=fIZ2ZHY3xl&sig=ACfU3U101WIrN_RVsnslwXcQIHIdEdILGw&hl=en&sa=X&ved=2ahUKEwiJxYrQpYbnAhUJOisKHZ5HB1gQ6AEwEHoECAoQAQ#v=onepage&q=Pilate%20banished%2C%20Vienne&f=false>
[17] Josephus. Antiquities. Book XVIII, Chapters III.2. Josephus. Wars. Book II, Chapter IX.4. Calmet, Augustin. Calmet's Great Dictionary of the Holy Bible. Pilate.
[18] Josephus. Antiquities. Book XVIII, Chapters III.3.
[19] Matthew 27; Mark 15; Luke 23; John 18.
[20] Luke 26:6-12. Bunson, Matthew. Encyclopedia of the Roman Empire. "Herod Antipas." 2002. <https://archive.org/details/isbn_9780816045624>
[21] Matthew 27:24-26; Mark 15:11-15; Luke 23:20-25; John 19:4-15.
[22] John 19:12. Josephus. Antiquities. Book XVIII, Chapters III.1.
[23] Josephus. Antiquities. Book XVIII, Chapters III.3, IV.2.
[24] "Caius Caesar Augustus Caligula." Jewish Virtual Library. 2008. <https://www.jewishvirtuallibrary.org/caius-caesar-agustus-caligula> Cohen, Jennie. "7 Things You May Not Know About Caligula." History.com. 2012. <https://www.history.com/news/7-things-you-may-not-know-about-caligula> Smith, William, ed. Dictionary of Greek and Roman. "Vienna." n.d. <http://www.perseus.tufts.edu/hopper/text?doc=Perseus:text:1999.04.0064:entry=vienna-geo&highlight=pilate>